Recipe: Duck breasts with pineapple, chilli and soy
Details

Category: Duck and other Fowl Based

Published on Saturday, 09 February 2013 10:58

Written by Super User :
Rating: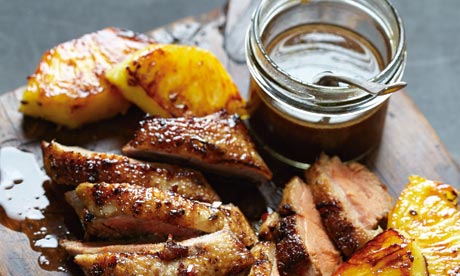 A favourite quick duck recipe. You could swap the pineapple for two tart eating apples, cored and quartered, in which case use a splash of apple juice or cider instead of the pineapple juice. Serves two.
Ingredients:-
½

large fresh pineapple

3

tbsp soy sauce

1

tsp soft brown sugar (or honey)

3

garlic cloves, chopped

A

golfball-sized piece of fresh ginger, peeled and finely sliced

½-1

fresh red chilli (according to heat), deseeded and finely chopped

A

few twists of black pepper

2

boneless duck breasts

A

little sunflower oil

2

spring onions, finely sliced

A

little caster sugar, for dusting
Method:-
Peel the pineapple and cut off two 2cm-thick slices. Cut these into quarters and trim off the core. Roughly chop the rest of the pineapple and, with your hands, squeeze out the juice into a bowl.

Mix three or four tablespoons of the juice with the soy, sugar (or honey), garlic, ginger, chilli and black pepper. Make three or four slashes in the skin of each duck breast, cutting deep into the fat but not as far as the flesh. Put the breasts in the marinade and turn to coat. Marinate for a couple of hours, if possible, but even 10 minutes will do.

Heat the oven to 220C/425F/gas mark 7. Grease a frying pan with sunflower oil and put it on a high heat. Wipe the marinade off the duck and sear quickly all over. Put the breasts skin side up in an ovenproof dish into which they'll fit snugly. Tuck the spring onions underneath and pour over the marinade. Roast for eight to 10 minutes, until the skin is browned and crisp – at this point, the meat should still be pink.

Remove the breasts and leave to rest on a warmed plate. In a small, lightly oiled pan, fry the reserved pineapple slices, dusting them with a little sugar and turning occasionally, so they brown. Strain the meat juices into the pan and reduce to a syrupy sauce, tossing the pineapple pieces to coat them. Put the duck in the pan and turn a few times to coat.

Slice the duck and arrange on plates. Spoon the sauce and pineapple over and around the meat. Serve with rice and steamed greens.
Note:-
by Hugh Fearnly-Wittingstall in Guardian