Recipe: Confit duck leg with white beans
Details

Category: Duck and other Fowl Based

Published on Saturday, 09 February 2013 11:04

Written by Super User :
Rating: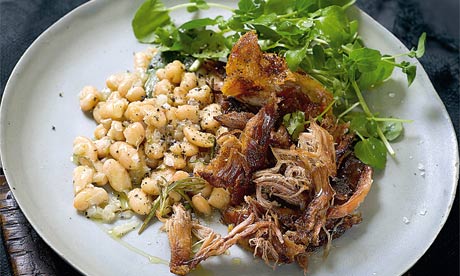 I love salty, savoury confit duck torn into shreds and tossed with beans or lentils. You can also serve the legs whole, roasting them in a very hot oven (230C/450F/gas mark 8) for 10-15 minutes. A whole leg serves one as a main course; shredded like this, a pair of legs will do two to four.
Ingredients:-
15g

coarse sea salt

1

tsp freshly ground black pepper

2-3

sprigs fresh thyme

2-3

bay leaves, torn

6

garlic cloves, squashed

2

duck legs

200-400ml

olive oil

1

tin white beans, drained and rinsed

Watercress,

to serve
Method:-
Combine the salt, pepper, thyme, bay leaves and garlic, then rub into the skin and meat of the duck legs. Put the legs in a tray or dish, and refrigerate for 24 hours.

Next day, scrape off and reserve the seasonings. Heat the oven to 150C/300F/gas mark 2. Heat a trickle of olive oil in a frying pan over a fairly high heat, brown the legs all over and transfer to an oven dish in which they fit as snugly as possible. Scatter over the reserved seasonings and pour on enough oil just to cover, or almost cover. Cook in the low oven for about two hours (if the legs are not submerged in oil, turn them halfway through), until the meat falls off the bone. Leave to cool, then store in its oil in the fridge.

To serve, remove one or two duck legs from their oil, allowing any excess oil to drip off, tear the meat off the bones and pull into shreds. Serve alongside white beans (mixed with a little sautéed onion or shallot, if you like) and watercress.
Note:-
by Hugh Fearnly-Wittingstall in Guardian